Artist Spotlight - CARLA DYSON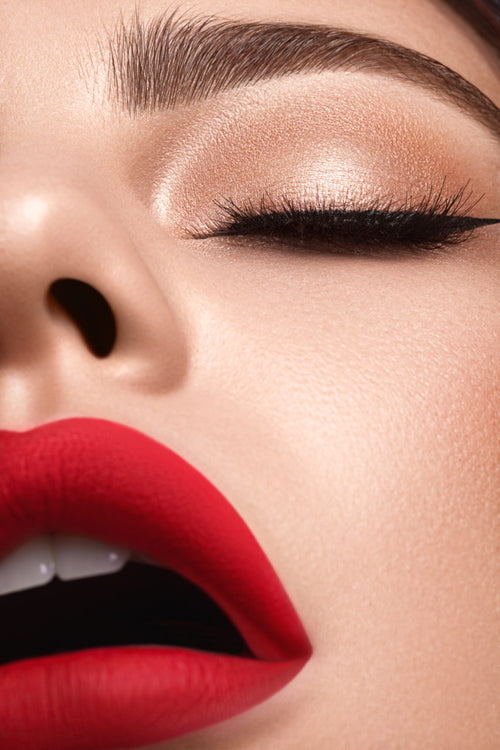 How we adore perusing through Carla Dyson's Instagram page.
Her page reveals a wide arrange of makeup looks as diverse as her clientele.  Her ability to enhance and accentuate and look at every clients own unique features and tailor her looks accordingly has gained her a legion of fans and a very loyal client base.
Her work spans across many aspects of the industry such as bridal & special occasion, commercial, editorial and runway and being in the industry now for over 10 years has provided her the opportunity to work with some of Australia's most recognisable faces and brands such as Kookai, Bonds, Elle, L'Oreal and for Mercedes fashion week.
Her passion for art, nature and travel has afforded her the opportunity to travel internationally and also base herself in the UK, where she has continued to grow, develop and master her art in the process.
Whether Carla is serving a fierce, red bold lip look or creating a divine pearl encrusted eye look – you can be assured, she will create it by putting in all her creative energy to ensuring a precise application that demands your attention.
We sat down with Carla in our most recent Artist Spotlight.
Using only one word, name your makeup style?
'Luminous'
I always try to create looks that glow from within!
The big WHY? Why makeup for you?
Makeup was always something I have had an interest in and to be honest I can't imagine doing anything else now. I love that I get to work with different people/ faces every day and to create something completely different depending on the brief/event.
The best piece of advice you have ever received?
Never stop learning - I was told by my university tutor that you can never stop learning and growing as an artist, and i couldn't agree more. I constantly educate myself on new techniques to ensure I don't become set in my ways.
What is your go-to holy grail product?
Armani luminous silk foundation - it works on most skin types and mixes well with so many other products.
The ultimate MUA debate, Bar or Individual lashes?
Individual 100%. I don't even carry strip lashes in my kit anymore as all my clients tend to want natural glam!
Who inspires/excites you?
My number one would have to be James Molloy - I love his unique style of beauty. He seems to find inspiration in everything and create insanely creative looks from this inspiration.
What's next for you?
I would love to get back into more editorial work. As my commercial work has picked up over the past few years, I don't have as much time to spend creatively working on an editorial series.
8. Red wine or white wine?
Neither - I'm not really a wine kinda girl, but I am partial to a glass of red with a cheese board!
For more Carla:
carladysonmakeup.com
insta @carladysonmakeup